Statistiques
Visiteurs: 1867759
| | | | |
| --- | --- | --- | --- |
| La leçon de tennis d'Andre | | | |
Écrit par Jerome
07-12-2006
Norfolk woman gets tennis lesson from Agassi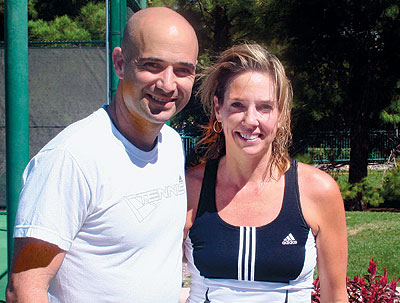 After her winning bid at a charity auction, Norfolk's Katie Van Buren gets a tennis lesson from the former rebel himself: Andre Agassi. BILL VAN BUREN PHOTO


By VICKI L. FRIEDMAN, The Virginian-Pilot
© December 7, 2006

The compact guy in the tennis whites, the one whose necklace beads spelled out "Daddy rocks," attracted little attention when he emerged from the pro shop on the windy morning in Las Vegas.

Norfolk residents Katie and Bill Van Buren had just pulled up in a limo.

"Hey, Van Burens! Wanna play some tennis?" greeted the familiar voice belonging to Andre Agassi.

At the Anthem Live! auction last December at the Constant Center, Katie's winning bid of $13,000 gave her the privilege of a one-hour tennis lesson with eight-time Grand Slam champion Agassi, with the money going for local cancer research.

The Van Burens will be in the front row at 7 tonight when Anthem Live! returns to the Constant Center with an exhibition between Agassi and James Blake. But a few months ago, the Norfolk couple got even closer to the 36-year-old icon.

While her husband was more a Pete Sampras rooter, Katie, 47, adores Agassi. She followed his evolution from teen renegade to elder statesman on the professional tour.

"I liked his style, the long hair and the earring," said Van Buren, sitting in her Loch Haven living room.

"A lot of panache," her husband agreed.

Katie Van Buren refused to allow the lively bidding at last year's auction to dissuade her, and Bill gave his full support. He was particularly motivated since his mother had died after a nine-year struggle with breast cancer.

The Van Burens had a year to set up the lesson, all done via email through Agassi's personal assistant, finally agreeing on Sept. 15. What they didn't know was that Agassi would decide to retire, and that Katie's lesson would come just one week after his final match at the U.S. Open.

An added bonus: She had tickets for one session at the Open, and it happened to be the afternoon Agassi's 20-year career came to a close. After he fell in the third round, a choked-up Agassi stirred up everyone in Arthur Ashe Stadium with an emotional farewell speech.

"It was the most moving, remarkable experience," said Katie, shivering at the memory. She didn't think it could be topped - until she had her personal hour with Agassi.

The session turned into an hour and 45 minutes, ending only when Agassi had to leave to pick up his kids Jaden and Jaz from preschool.

"Let's hit," Agassi urged, equipped with a full racket bag, balls and water. They headed to an empty court at the suburban club, only attracting a momentary stare from two women playing nearby.

A self-described 4.0-level player whose court time is measured in hours per day, not days per week, Katie could handle Agassi's topspin until he tired of the rally and blasted a winner in the corner. Despite an ailing back that caused him problems during the Open, Agassi moved well.

"Katie was moving him around and you could tell he was sore," Bill Van Buren said. "I joked, 'Katie, you need to hit it back to him or you'll hurt him.' And he said, 'Do I really look that fragile?' "

Agassi supplied the typical tips Katie has heard from the pro at Tidewater Tennis Center. Move your feet. Keep your eye on the ball. Come forward when hitting. But perhaps Agassi's best advice: where to eat dinner. The Van Burens had one more night in Las Vegas and asked the native for a suggestion.

After thinking for a moment, Agassi picked up the phone to call Steve Wynn's new hotel and asked them, "What time would you like to go?"

Bill Van Buren later asked if he should do anything to ensure everything was intact about the reservation, perhaps make his own follow-up call.

"That won't be necessary," Agassi assured.

After pictures and a few autographs - Agassi signed Katie's U.S. Open ticket and program from the day of his final match - the magical morning was over. But before leaving, Agassi had business in the pro shop.

"I've got to sign my kids up for a lesson," he explained.

The Van Burens couldn't hide their disbelief. Dad is Andre Agassi and mom is Steffi Graf, winner of 22 Grand Slam titles. And they need tennis lessons?

Agassi shrugged: "They don't listen to anything we say."